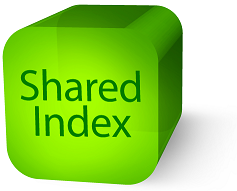 Normally each user has a personal index for his data. However, it can really be very useful to not only have a personal index but also to search additionally in several external Lookeen-Indexes. Assuming that there exist a lot of public documents in the network of a company or a lot of big public files, which are to be browsed by many users, on an exchange-server, normally each user would have to bear the responsibility to index these data himself.
However, this increases the network traffic in an undesired way and at the same time it burdens the user's computer and costs precious working time. By using the Shared Index you generate a central index and you make this index available for all desired users. This can be done in a very comfortable way by delivering the index path. Now the individual users are able to browse through personal indexes and external indexes at the same time.
You have a lot of Outlook-archives in the form of PST-files, but you do not want to always use all of them in your current profile? With the help of the Shared Index you will have all information under control. For this you only have to generate an external index for your PST-archives.
Get to know the latest Lookeen-feature – this version is available for download here.
Lookeen is updated frequently. Learn about the latest version here!
---
---
---
Other things you might find interesting:
---