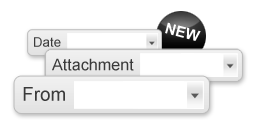 In order to make complex searches in Outlook easy, you can use the extended search fields in the Lookeen search result window. Now you're able to restrict your search quickly and easily without using long self-made search queries.
Want to see Lookeen's latest innovations? Check out our product page.
With the help of this extended search fields you're able to search e.g. directly just in your Outlook contacts for a person. Or restrict your search to mails having only PDF attachments! Are you searching for mails in a specific span of time – with Lookeen 2.0 no problem!
Certainly the fields can be combined – for example: search for a search term within a range of date in an attachment of a special kind of file type (e.g. doc) received from a wished sender! Complex search queries will just take a few seconds – and the handling will stay intuitively, too!
---
---
---
Other things you might find interesting:
---