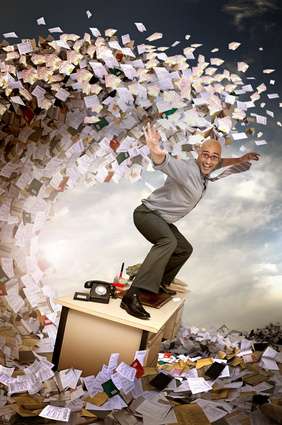 Both the popularity and domain of cloud services remain in strong development. Cloud storage is prevalently leveraged across a large number of enterprises. Cloud hosted software and further services, packaged in an "-as-a-Service" model are gaining popularity. The idea of virtualising and outsourcing the workspace by moving Virtual Desktop Infrastructure (VDI) to a cloud-hosted environment as Desktop-as-a-Service (Daas) is similarly a growing component of this trend. DaaS has received validation from heavyweights in the virtualisation game, such as VMware, with Horizon DaaS, and Citrix Service Provider based DaaS solutions. Cloud computing giants have weighed in on DaaS from the other side with the release of DaaS Amazon Workspaces AWS.
VDI implementation can be prohibitively complex and costly, particularly in smaller businesses.
Search in VDI made easy - how Lookeen can improve your VDI search experience
DaaS moves VDI to the cloud and returns it to the customer as a subscription based virtual desktop solution, where the legwork of VDI setup and maintenance are removed. As such, DaaS is making virtual desktops more readily available to those who lack the provisions to implement VDI themselves.
As more and more services are being migrated to the cloud, outsourcing desktop hosting in a DaaS model is becoming an increasingly attractive option for small businesses. Hosting desktops offsite with DaaS provides the benefits of desktop virtualisation and some additional benefits of its own. A sweet spot of DaaS for SMBs is that these benefits can be reaped without providing the required expertise or the investment in new IT infrastructure. DaaS and desktop virtualisation allow better management of IT infrastructure and easier deployment. Remote and secure access for mobile users is a great asset to company productivity, and such DaaS and VDI are increasingly important topics in light of growing "Bring Your Own Device" (BYOD) trends.
The disadvantages of in-house VDI
Setting up a VDI can be very complex business. On top of having the relevant expertise on hand, large investments must be made in new server hardware, and great deal of attention to detail must be provided for system design and implementation. Ease of management is touted as a key advantage of VDI (and DaaS) over regular desktop management, and depending on the implementation, this may be the case. Nevertheless, a capable team will still be required for data centre management and maintenance to keep the VDI up and running.
DaaS scalability
On top of the initial VDI setup, any change of scale, or even a pilot scheme will require further investment in data centre technologies and implementation work. In the growth stages of a business, IT infrastructure is particularly uncertain. It is at this time where ease of system transition, incremental scaling and testing are key factors. With DaaS, all of this work is completely removed from the customer. Individual users can be incremented or decremented with ease, so there is never a restrictive overhead of system resources or wasted hardware after users are removed from the DaaS VDI. For this reason, any piloting of new schemes can be done on DaaS without detailed system planning, or incurring substantial investment losses, aside from DaaS subscription. As a subscription based product, DaaS pricing has the benefit of being extremely predictable when compared to in-house IT infrastructure investments, mitigating the risks of project implementation running wildly over budget.
Outsourcing management
With the IT management duties reduced by DaaS, there is a reduced demand for IT support, whether this is in-house or outsourced for a small company. Maintenance is now the responsibility of the DaaS service provider, and they provide the support for technical issues. The added benefit of this is that, as specialists in VDI and cloud computing, the expertise on DaaS should be on hand for quick resolution of issues. For IT staff, less time will now be occupied with troubleshooting and maintenance, and thus, freed-up resources can be dedicated to higher-level tasks.
VDI is now a maturing technology, despite not establishing as wide of a market foothold as was initially expected. DaaS overcomes some of the restrictive aspects of VDI, and provides a stepping-stone for smaller scale virtualisation. As DaaS is still desktop virtualisation, just shifted to a cloud environment, DaaS does still encounter some VDI related issues. Latency and network connectivity can have an impact on user experience, although, DaaS is mostly being approached as a solution for simplified management, with worker remote access as an added bonus.
Licensing issues
With the advantages listed above, it seems that SMBs have been welcoming DaaS solutions for a while. Viable DaaS solutions are now available from numerous vendors with affordable pricing that can be as low as $35 a month. A large factor preventing DaaS growth until now has been restrictive Microsoft licensing. The restrictions of license per device blocked DaaS providers from allowing virtualised full Windows operating systems, without incurring license fees on a scale that significantly diminishes the financial viability of switching to DaaS. These restrictions are covered in good detail here. Products like AWS actually run Windows server images, skinned to look like Windows 7. There is speculation as to if and why Microsoft may be deliberately strangling DaaS growth, but it is certain that hopes for large scale DaaS adoption are strongly tied to Microsoft's licensing policy. With the release of Microsoft's Azure Remote App, license restrictions were relaxed for DaaS, although not entirely.
Adoption of DaaS is gradually picking up steam. For instances where everything is already running fine, a change to DaaS is probably not going to be a great idea right now. However, come the time for a reset, when you are looking at costly hardware upgrades and infrastructure changes, at a time when all things are moving to the cloud, it might be a good idea for the desktop to follow suit.
---
---
---
---