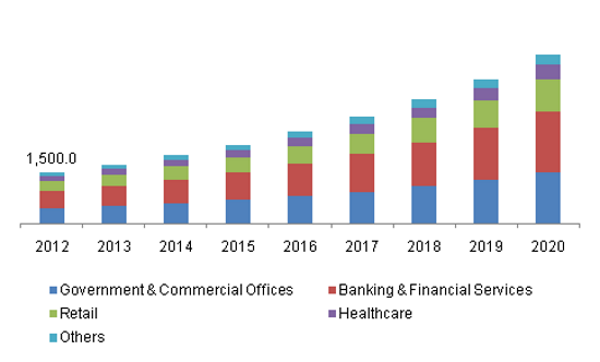 Grand View Research published its Enterprise Search Market Analysis research in January of this year. The report analyses the market by end-use sectors and enterprise size to forecast each segment through to 2020.
Learn more about how an enterprise search tool can benefit your company.
Increasing Data Volumes a Key Growth Factor
The report outlined several key factors contributing to the projected growth of the enterprise search market in the coming five years. The increasing data volume in enterprises, coupled with the need for time saving data search solutions show a solid demand for data search and management solutions.
The emergence of cloud computing and 'as-a-service' technologies represent a further growth niche, as well as an area in which to innovate. The low installation and running costs of cloud and SaaS technologies, and reduced need for technical support staff, means that the adoption rate of these technologies will only increase, inciting further demand for compatible data search solutions.
There are, however, a few factors that may impede the growth of the enterprise search market. The ambiguous nature of data itself, as well as the high implementation costs of many enterprise sized solutions may restrain some buyers. The changing role of online search engines encroaching into the market may also hinder growth in the market.
Demand in Different Industry Sectors
The banking and finance sector is a significant end-use segment of the enterprise search market globally, and is projected to remain the majority source of demand for through 2020. The banking and finance sector relies on interconnectivity and sharing through different outlets and is seen as the primary growth factor for this segment. Demand in the next biggest sector, Government and Commercial offices is expected to grow considerably due to the increasing use of intranets to share information.
Further industry segments include healthcare & medical, defense, media, construction and more. In the healthcare industry, the need for fast and efficient access to patient critical information maintains demand for enterprise search tools within medical institutes.
Ideal Enterprise Search Solutions
As defined by the research, enterprise search solutions should enable users to acquire information from various pools of data across the enterprise, such as databases, emails, intranet data management systems and more. An ideal solution would save operational time and money for the company by efficiently managing company information and allowing this information to be searched. Increased security of internal documents by allowing access only to authorized personnel should also be taken into consideration when selecting an enterprise search tool.
Purchase the Grand View Research Enterprise Search Market Analysis from their website for more information.
---
---
---
---