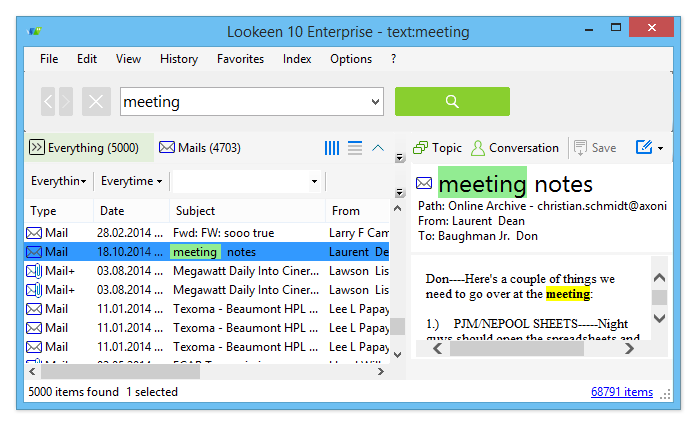 Learn more about Lookeen compared to Google Desktop Search
Google Desktop Search Discontinued
Those who were long time users of Google Desktop will know that the development of the search tool was discontinued in September of 2011. Although it is still available to download from some sites, updates and user support have also been discontinued, which makes using the tool risky. If you're currently using Windows 8 or a more recent version of Windows you're more at risk if trying to use Google Desktop. Google pulled the plug on Google desktop before Windows 8 was even launched to the public. This makes it a very bad idea to try to install Google Desktop onto Windows 8. With it being discontinued before Windows 8 was even launched, means Google never even had considered how it would work on this version of Windows. There is, however, no need to panic. Many alternative search tools such as Lookeen have been developed that offer many of the most loved features found in Google's offering.
Lookeen Offers Faster Search Functions
People who appreciated the ease of use of the Google Desktop Search functions will not be disappointed by Lookeen: The Lookeen search tool is integrated into the Windows System Tray, onto your desktop, or directly into Outlook, making access to search very simple. The lightning fast real time indexing means you can browse all up to date local folders and network paths quickly and easily.
Better Display of Search Results
Those unconvinced by the simplistic display of search results in Google Desktop Search will find the perfect solution in Lookeen. An integrated preview window allows all users to quickly view all document types in full fidelity, and the highlighting of key words makes key information easy to find.
| | | |
| --- | --- | --- |
| Features | Lookeen Desktop Search | Google Desktop |
| Interface | Stand alone Software, Outlook integration possible | Browser |
| Search filters | Over 25 filters and categories | Not available |
| File size indexed | Entire file | First 10,000 characters only |
| Index size | Unlimited number of files | Up to 10,000 files |
| E-mail Attachments | All Outlook email attachments | Not supported |
| Preview | Full fidelity preview of Office documents, PDF, images and more | Not supported |
| Document editing | All text documents eg. .docx .xlsx .txt | Not supported |
| Technical Support | Free technical support within 3 business days | No longer available |
| Privacy and security | Your information is secure and never shared externally | Tracks all searches and maintains cache of index |
| Software Development | Regular updates | Discontinued |
Try Lookeen out for yourself with Lookeen Free to see how great search can help you make the most of your day.
Are there any other features you miss? Leave a comment below and let us know!
---
---
---
Other things you might find interesting:
---