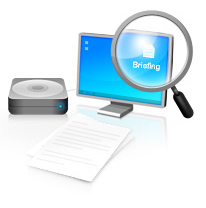 A lot of Windows users have already noticed the benefits of a desktop search and taken advantage of it. However, you do not need additional tools to browse your desktop – because the function of a complete desktop search is already included in Lookeen. You just have to add the desired folder by using the Lookeen options. After you have done that, Lookeen will also index all folders in Windows and provide a full text search for the most common file types.
Search through Word, Excel, PDF, PowerPoint and more. Learn more here!
Lookeen supports many file types:
Microsoft Office Word (.doc, .docx)
Microsoft Office Excel (.xls, .xlsx)
Microsoft Office PowerPoint (.ppt, .pptx)
Adobe Portable (.pdf)
Websites (.htm, )
PHP-files (.php)
Extensible Markup Language (.xml)
Richtext files (.txt, .rtf)
And more!
Have you already wondered many times where individual pieces of information are stored exactly? Which server is your document saved on? Do you think there might be multiple copies of the same file stored accross the network? Which of these files is the most up to date? Was this file shared in the network by Mr. Meier – or by Mr. Schmidt? This is no problem for Lookeen. You can add an unlimited number of network resources or complete servers in order to access the required information quickly and easily. The desktop search function means that you can access your personal hard drive, public folders, Microsoft Exchange Server, PST files and network drives and servers.
Now Lookeen is not only a Microsoft Outlook search tool, but also a complete desktop search. This desktop search functionality can be used enterprise-wide, so that each employee has access to the information they need, when they need it. Lookeen follows Active directory rights, and has extensive GPOs that ensure that all of your documents are safe and secure.
Whatever you need – Lookeen will find it for you! Try Lookeen out for yourself to experience the fastest desktop search tool on the market!
---
---
---
Other things you might find interesting:
---