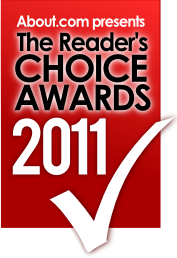 We are very happy to have won the Reader's Choice award for the second straight year! The readers at www.about.com have spoken, and for the second time we have been chosen to hold the "Best Outlook add-in 2011" award, proving that Lookeen remains an efficient solution when companies and individuals need to manage their Outlook data.
"For the second year in a row, we've been selected for this coveted international award and we couldn't be happier. This validates all of the hard work we've put into Lookeen to make it as user friendly as possible for companies and individuals," commented Martin Welker, CEO of Axonic.
See what the press is saying about Lookeen.
The Outlook add-in Lookeen has once again convinced users through its performance, that it is a great value for money. Lookeen is quickly becoming the go-to desktop search tool, not only will it search Outlook folders, but it will also comb through hard drives and servers to find all the files that might be of relevance to the user. The clarity of the search results, whether they be e-mails, documents, pictures or other files, facilitates easier access and even makes e-mail correspondence more transparent.
Lookeen has been continually improving its product over the last year and continues to make huge strides with corporate clients. Individual users have also benefited greatly from the new and improved Lookeen this year. Lookeen allows companies and individuals to weather the email storm and manage their data effectively, with a clear and quick search tool. Installation and operation are also smooth and seamless. Get a feel for what Lookeen can do for you by downloading this free test version: https://lookeen.com/download/
---
---
---
---