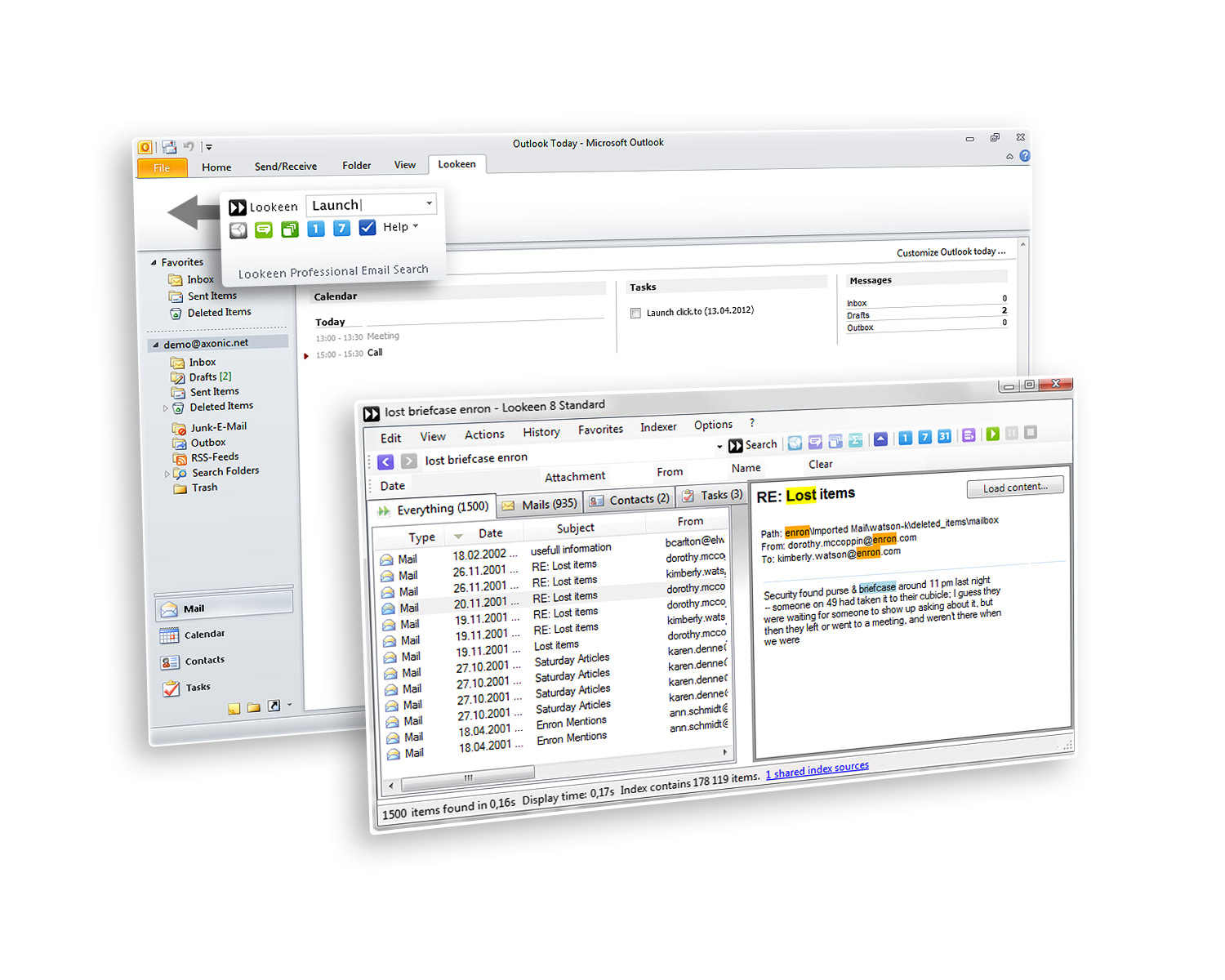 Early in 2008, Axonic Informationssysteme GmbH released the Outlook add-on Lookeen. This tool has made searching in Outlook easy for thousands of users in over 70 countries worldwide. Lookeen searches through local mailboxes, exchange server, public folder or the intranet in a very clearly laid out and efficient manner. Version 3.7 also has full 64-bit compatibility, advancements in handling and a quick load button for files, and a beta feature: real time indexing.
Learn about the latest version of Lookeen. View our product page here!
For self employed people, for teams and of course, whole companies, the data structure on the computer, in the network, and even in your own Outlook mailbox constantly changes. Mails and files are constantly being added, edited, moved or deleted. This happens so fast, that only a program can keep up with it. Thanks to real time indexing, Lookeen is able to find mails and others files in real time.
"Let's say an associate creates a bill and saves it in the network. Right away after it was saved, Lookeen enables all other associates to find the bill, to search through it and to work with it, because the change was instantly registered in the index" explains CEO Martin Welker.
Real time indexing therefore constantly delivers up to date files to all Lookeen users – no matter if they are on exchange servers, in public folders, on Citrix or Terminal Server environments or in the network. This means an essential gain in efficiency and productivity, especially for companies. Axonic GmbH is planning to release the final full version of the real time indexing feature within this year as an upgrade to the already existing version.
This version is available as a free download
The real time indexing feature included in the beta version can be disabled on-demand. The program will then search as usual through emails and files, still offering the improved performance and handling of the latest version.
"Many companies that use Lookeen are testing currently the beta version with the real time indexing. But not everyone wants to try out a beta version, so these companies just use the program's improvements" tells Martin Welker.
For established Lookeen users, the latest version will be free of charge. Interested parties can test the program for 14 days in a free of charge trial version. The software can be downloaded at https://lookeen.com/download.
Axonic's click.to for Outlook. With just one click you can add copied text or attachments to any new mail. (Wikipedia: click.to).
---
---
---
Other things you might find interesting:
---