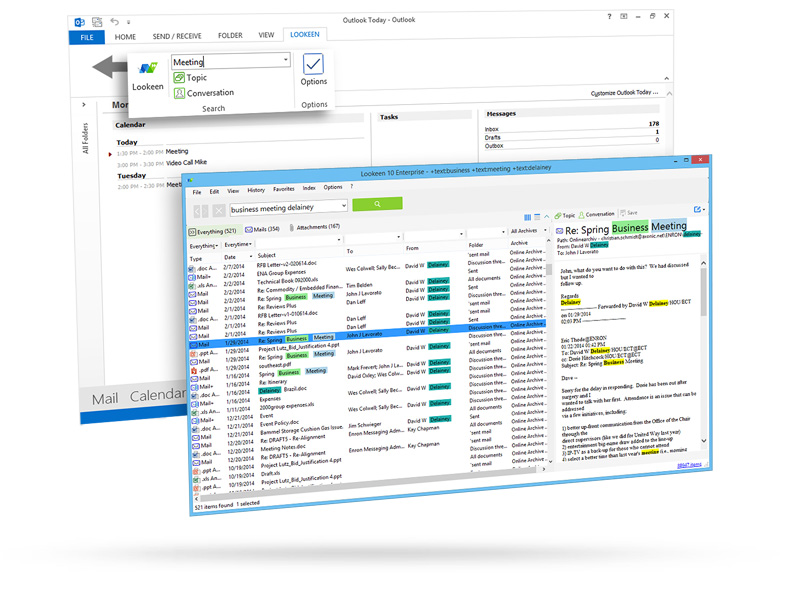 After 2 years of development, we are proud to announce the release of a new Lookeen! Our development team has taken into account the valuable feedback received from all of our users about our search client, and has made Lookeen Desktop Search the best desktop search tool on the market. This customer-centric approach to design means that Lookeen was developed with exactly our users in mind – you!
Keep up to date with the latest features of Lookeen Desktop Search!
Lookeen Desktop Search
Lookeen is a completely standalone desktop search tool – now all Windows users can benefit from the incredible search capabilities of Lookeen without needing to log in to Outlook. Lookeen can be accessed from your desktop, Windows system tray, or (best of all) using the ctrl+ctrl shortcut! But don't worry Outlook users – Lookeen can still be installed as an add-in to your Outlook, so you won't have to change the way you work.
Faster than Ever
Lookeen is now faster than ever, with faster indexing, faster search returns and a brand new search as you type feature makes it one of the best search clients out now. Lookeen will bring up search results for all partial terms as you type, giving you the results you need before you've even finished looking for them.
Better Search Results
The best wildcard and filter options make narrowing down your search even easier:
Search for documents using the * wildcard at the beginning, end, or middle of your search term to bring up all results with your search term included as part of a word. For example: search for doc* will bring up all documents named document, doctor, doctorate etc.
Boolean and proximity search terms are still supported and continue to make your searches ever more accurate.
Filter using one of more than 25 options to return the most exact results to your query, and adjust how the filter columns are displayed to find the overview settings that work for you.
Adjust how much information is displayed per result using the 'multiline preview' button.
Better Preview Options
Viewing your documents has become even easier with the full fidelity preview feature. View your documents as you would see them in their native programs – Office documents, PDFs, image files and more.
For the first time ever, you are able to edit and save changes to documents right from within Lookeen. This new feature supports Word, Excel, and other text editing files which means you'll be able to make quick edits without having to open a new program.
We've gained a lot, but lost nothing!
We at Lookeen still value the security of your files, which is why your index will remain safely on your hard drive when using our search client. If you are using Lookeen as part of a company-wide search solution and not just as your personal search client, rest assured that sensitive data will never leave your servers, and no information is transferred to the Lookeen HQ, or onto any public cloud servers.
Stronger than ever in virtual desktops, Lookeen is the simplest search solution for VMWare, Citrix and Terminal Servers. Experience the same user friendly interface and powerful search capability of Lookeen desktop search on any compatible virtual desktop.
For more information on our Lookeen search client, please read our press release or test Lookeen for yourself!
---
---
---
Other things you might find interesting:
---