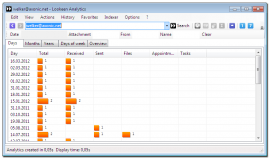 The global survey about Enterprise Search was conducted between March and May of this year. In it, 75% of respondents said that Enterprise Search was a critical factor in success.  It seems that finding information is still a big issue with companies.
Learn more about how enterprise search is impacting businesses everywhere...
11% stated it was fairly easy to find information and only 3% stated it was very easy to find information. That means that for smaller firms with smaller budgets, it's still possible to get a lot of bang for your buck by investing in Enterprise Search tools.
The survey also revealed that companies that invest more in their Enterprise Search utilities are the most satisfied with their searches (no surprise there). What was a surprise was that 91% stated that the primary goal of search was to retrieve already known information. That means that companies already have the data that they need, they just need to be able to find it quicker and more efficiently. Think of it as library at a university. If you're working on a research project, chances are that you aren't the first student to do so. Use the Library search tools and save yourself valuable time. The same is true for companies; make sure you aren't wasting valuable man hours on duplicate work.
That is the reason to have or create a budget for Enterprise Search tools. Find the enterprise search and findability report 2012 here (account creation required).
---
---
---
---