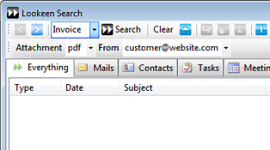 Lookeen 2.0 provides the best solution for dealing with different PST-files: Search as many PST files (e.g. archives) as you want and have access to the content, although the files are not concurrently opened in Outlook.
Need to search your PST archives? Learn how here.
You could save the PST files at any folder in your network – therefore you do not have to waste central memory or hard disk space. All archives and PST files have to be opened in Outlook first and have been indexed once. After that you can close them and all files are still remain in your index for seaching. Only your main PST has to be opened which accelerates a lot the program start as well as the work with Outlook. As Axonic Informationssysteme GmbH has announced yesterday, the version 2.0 will be presumably released at the beginning of march 2009.
---
---
---
Other things you might find interesting:
---