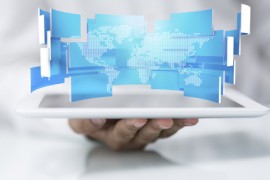 Desktop virtualization, also called VDI (Virtual Desktop Infrastructure), is currently on everyone's lips. To understand desktop virtualization, one must first explain the concept of "virtualization": This is where hardware, operating systems, data storage or network resources are generated virtually. Thus, for example, multiple servers and operating systems can be operated on one computer simultaneously and side by side. The virtualized servers or operating systems are referred to as virtual machine or guest, the physical computer is the host. With desktop virtualization or VDI, a virtual desktop is created, which appears independent of a particular physical machine. The user is no longer tied to a device or a place, but can always have access from any device and from any location on the same desktop. All data and programs will be centrally managed by the enterprise server and the IT department can quickly generate new desktops or make changes on the desktops of all employees.
How does Outlook work in virtual environments?
Microsoft Outlook can also be installed on such a virtual desktop, making it available from anywhere. By logging-in via the Internet, your emails, addresses and contacts in Outlook can be accessed from any computer. The only problem: The Outlook search in VDI environments does not work well. There are, however, solutions like Lookeen available – read more in the next article.
Want to know more about Lookeen's VDI search solution? Click here!
---
---
---
---