Desktop Search is one of Microsoft Windows most useful and productivity boosting tools. You have probably been using it for years now. If you are just starting use Windows 8 then get prepared to have your desktop search skills thrown off a bit. Where before you simply had to use the Start Menu search to find what you need to find, Windows 8 search has implemented a brand new full screen start search. Whether or not the change with Windows 8 search is something you like, it is still important to know how to use your desktop search properly. Here are a few tips and tricks to have your Desktop Search in Windows 8 work better than before.
Need a better search tool? Try this comprehensive Windows search software..
Windows 8 Desktop Search
The desktop search in Windows 8 focuses more on finding apps or programs. This is useful in many ways because it is something most people tend to use their desktop search for.  If you are looking for how to search files in Windows 8, we will get to that as well, but that's done best with File Explorer.
The Windows 8 Search will work almost identically to the Windows 7 Start Menu Search. When you are on the desktop you can simply hit the WINKEY or even CTRL+ESC and you just start typing in what you need Windows 8 Search to find. When you begin typing a search in the desktop search bar then the results will show Apps and Programs that correspond with the letters you are typing. When you begin to type out a Windows 8 Search the results will appear on the left. The default for the new desktop search is for it to mainly show you apps, but you are able to set up the filter settings to also start showing you settings and even files.
Some of you may not like this system of desktop search, but it is the route that Microsoft has taken in recent years.  Another way to find the apps you need is to just have Windows 8 show you the complete list of apps on your computer. Click on the small downward facing arrow icon on the bottom left which will take you to the All Apps. You can now search your apps which can be listed in alphabetical order, or grouped by category, most used or date of installation. This should make it easier to find the app you want.
To change the filter settings and force the Start Screen to show files as well as apps during a search, follow these steps: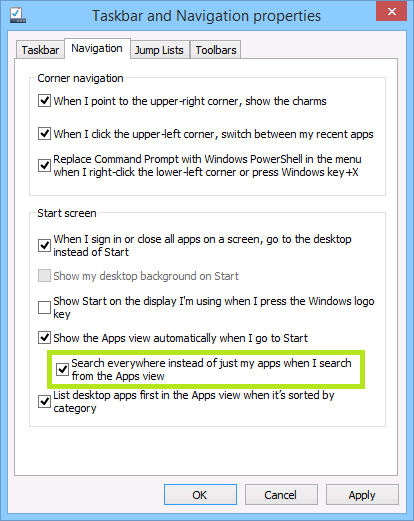 From the desktop, right click on the taskbar and click Properties
Go to the Navigation tab inside the Taskbar and Navigation properties window
Check the box next to "Search everywhere instead of just my apps when I search from the Apps view"
Click Apply, then OK to close the window
Windows 8 Search will also allow you to go right into Apps, Settings, or File search with some quick keyboard shortcuts. While somewhat unnecessary, you can use the keyboard shortcut of WINKEY+Q to do an Apps search. When you press WINKEY+W, this will allow you to search for Settings. If you press WINKEY+F you can find files with Windows 8 Search.
File Explorer: Searching for Files in Windows 8
If it's files you're in search of, and not just apps then your best option to use File Explorer to find the files and documents you need.  When you are in the Windows 8 desktop, just click on the File Explorer icon that should be located in your taskbar. File explorer is the place where you can search through all of your content on your PC. It is an essential part of the desktop search experience.
In Windows 8, desktop search has been made even easier, with the addition of the search ribbon. Anyone who has used an Office product in recent years should be familiar with it.
With the addition of the ribbon to desktop search in Windows 8, you can further refine and narrow your searches by the type of file or by date and size of the files. If you are still having trouble finding the files you need then, this probably shows that you need to learn how to organize documents so you can find them.
Windows 8 desktop search may seem strange to you at first, but with some practice you will get used to it, as well as File Explorer.
---
---
---
---