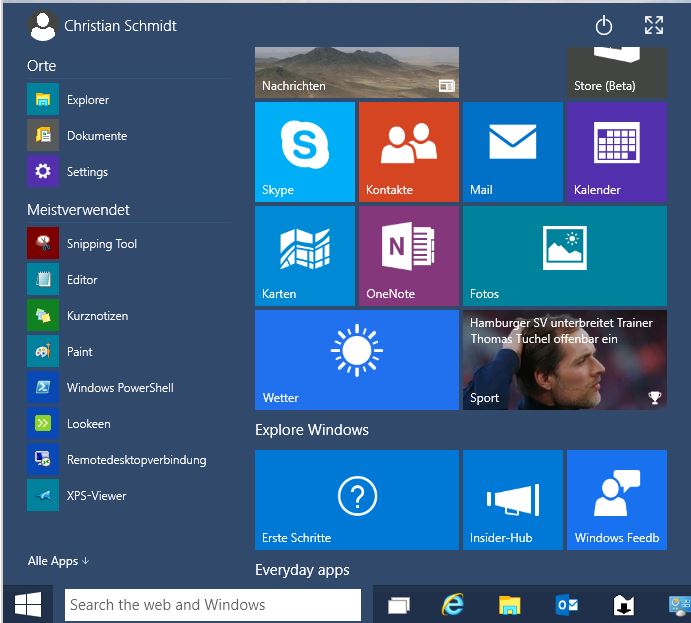 One of the most talked about new features of the Windows 10 OS is the brand new approach Microsoft has brought to Windows Search. The new Windows Search can be accessed either from the brand new Cortana personal assistant search bar which is directly integrated into the taskbar, or from within the start menu.
Need to search faster in Windows? See what a professional tool can do for you!
Windows Search and Browsing
The aim of the new Windows Search is to bring browsing back to the desktop. When you enter a new search term into the search bar, Windows will bring up a webpage, an app on the Windows store, an html page showing results in Bing, or a local file. Clicking on a search result in your toolbar will launch Spartan (the new Internet Explorer), or the appropriate app to open a file – Xbox Music to open a song file, for example.
The Cortana personal assistant brings a Siri-like approach to Windows Search. Accessible on all of your Windows devices, and now on your desktop, Cortana taps into your information and notifies you of things that might be of interest. It gives you suggestions, ideas, reminders, alerts and more. Cortana tracks weather, stocks, flight times or updates to frequently read websites. It can also give you more information when you highlight text in your browser, and even write emails for you.
Tweaking your Search Menu
While personal assistants like Cortana have become popular on mobile devices, the advantages of bringing it to the desktop seem minimal.  Windows Search has become more flexible with options to minimize, hide or completely disable the Cortana personal assistant. In order to simplify your Windows search options, you can disable Cortana entirely by clicking on the three bar icon on the top left, choose settings, and click to toggle 'off'. Disabling Cortana will streamline Windows Search and bring it back to what seems similar to the Windows 8 version of search, with fewer notifications cluttering your desktop.
It seems much improved in this latest iteration, and the integration of multiple information sources such as Bing, apps and web pages shows a real move to work with modern consumer needs. However, Windows Search still fails when it comes to a comprehensive search of local files, lacking the ability to easily narrow down or focus a search. This is why Windows compatible desktop search tools are still necessary for fast and effective search.
---
---
---
---