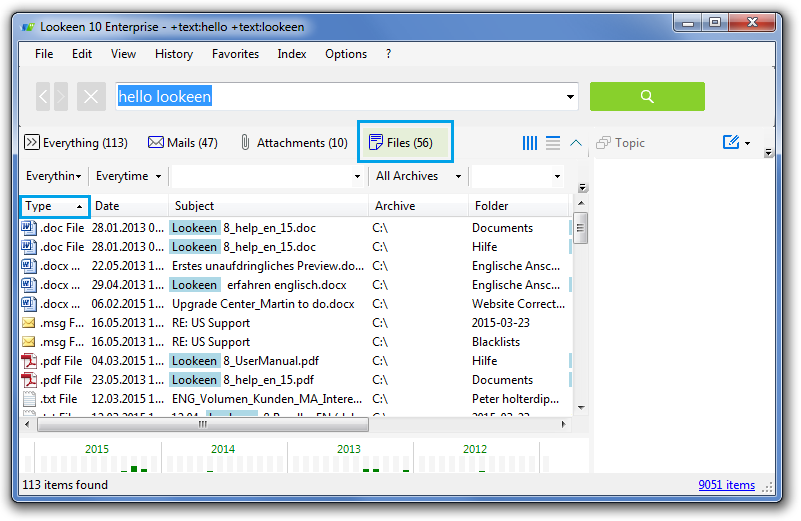 There are several ways you can isolate file types in Lookeen. Today I will explain the three methods we use most at the office.
Sort by Type
The fastest way to isolate different file types is to arrange your search results in order of file type. This comes in handy when, for example, you have several versions of the same document saved across various file types.
To do this, simply select the 'Files' tab above your search results, then click on the 'Type' column header. A little arrow pointing up indicates that the results are sorted A→Z. Click again and the results will be sorted Z→A by Type.
Filter by file type is just one of many options. See what else Lookeen can do!
Use Advanced Search Terms
If you're looking for a specific file type of file and want to isolate your search to only that exact file type, the first way you can do this is by using some of the advanced search terms supported by Lookeen.
Simply enter your search term, and then add the term '+ext:xxxx'. In my example, I am searching for a .txt file, so I used '+ext:txt'. The same can be done for any file type e.g. 'docx' 'jpeg' or 'pdf'.
Use the Advanced Search Fields
Lastly, if you frequently search for specific file types only, we recommend that you add the 'File Extension' column to your results field. The 'File Extension' column will remain in your results list until you manually remove it.
Click on the customize columns button (four blue vertical lines to the right hand side)
The 'Select Columns' window will pop up
Select 'File Extension' from the top of the list and click 'OK'
You may need to expand the Lookeen window to be able to view the new column correctly:
In the advanced search fields section above the 'File Extension' column header, there will be a new dropdown search field
Type the file extension of the file you're looking for into the search field e.g. 'doc' 'pptx' 'pdf' etc
Lookeen will save your search history, so you can simply select a file type from the drop down list until you close Lookeen:
Do you have a burning question about Lookeen? Let us know in the comments below! We'll update regularly with tips, tricks and tutorials to help you make the most of your desktop search.
---
---
---
---