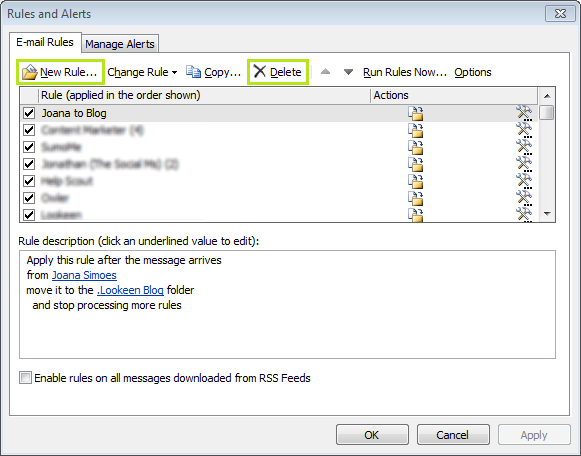 Outlook 2010 has many settings, options, and functions to work with. One of the most helpful functions among all of those things are Outlook Rules. What are rules in Outlook? A rule is just an action that Outlook will perform automatically when there are incoming or outgoing messages, and the actions are based on default conditions or rules that you setup yourself.
Looking for a faster way to organize and search through Outlook? Try a search tool!
The rules Outlook lets you create are divided into three groups:
Stay Organized
Stay Up to Date
Start From a Blank Rule
But what should you do when your Outlook rules stop working? Let's go over some solutions to this very common Outlook issue, so you can get things up and running again.
Why your Outlook rules are not working
Outlook Rules may stop working when you upgrade from Outlook 2007 to Outlook 2010. As a daily user, you may also find this to be a common issue in Outlook – Rules in Outlook aren't always the most stable function.
There are some simple things you can check that may be the root of the problem:
If you created a rule and selected the box that says "On this Machine Only", this may stop this specific rule from automatically working on each computer you use. Make sure this box is not selected.
If you have more than one email address in Outlook, there's a chance the rule was applied to the incorrect email account, so make sure your assign the rules to the correct accounts.
Creating, editing, and deleting Outlook Rules
Your best bet when it comes to malfunctioning Outlook rules might be to delete the rules that are failing to do their job, and recreate them. Editing or recreating the rules you need will usually have them up and running again. Even though it's time consuming, it's worth trying this before taking any more drastic measures. It's also an opportunity to edit or delete other rules you may have created in the past.
Click Rules in the Home ribbon
Click Manage Rules & Alerts
To edit a rule:

Double click on the rule you'd like to change
Choose your conditions from the list
Follow the rule setup wizard

To create a new rule:

Click New Rule…
Choose a rule from one of the 3 groups
Follow the rule setup wizard

To delete a rule:

Click on the rule you'd like to delete
Click Delete from the menu
Click Yes

Make sure to click Apply before you close the rules manager
If after doing these things, your rules are still not working properly, you may have to recreate your profile or delete and re-add the accounts to your profile in Outlook 2010.  Make sure you have all of your data backed up before doing this. Once you have your accounts back up and running, you can then recreate the rules you need.
---
---
---
---